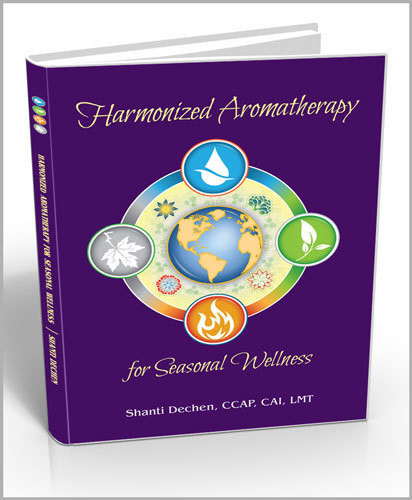 Harmonized Aromatherapy for Seasonal Wellness Course, 25 hours
SKU Short-Course-HASW
Product Details
Harmonized Aromatherapy for Seasonal Wellness (25 hours)

NEW COURSE- Join author, Shanti Dechen, CCAP, CAI, LMT, on this journey of harmonizing herbal medicine, aromatherapy, and holistic remedies to create your unique support implementing the natural healing powers of nature.

Harmonized Aromatherapy for Seasonal Wellness interconnects various aspects of natural healing to support your health throughout the seasons. The healing powers of nature are extraordinary. Discover the multi-faceted approach to a harmonious balance of the body, mind, and spirit. Explore nature's healing powers of plant medicine through herbs, flower essences, hydrosols, essential oils, aromatherapy blends, and natural healing modalities to create a multi-dimensional environment for healing.
Would you like to deepen your connection with plant medicine?

Do you want to deepen your knowledge and empowerment for self-healing?

Would you like to learn more about how to combine herbs, flower essences, hydrosols, essential oils, and holistic therapies?

If so, this course is for YOU!

This course will cover in-depth information on:

Holistic and Plant Medicine

Integrative Self-Care

Using Medicinal Plants

Seasonal Wellness- herbs, flower essences, hydrosols, essential oils, aromatherapy blends, and natural healing modalities for each season.
Included in the course:

Digital Course Materials: Harmonized Aromatherapy for Seasonal Wellness workbook
6.5 hours of video presentations
Multiple choice test
Personalized instructor support by phone and e-mail
The book Harmonized Aromatherapy for Seasonal Wellness is required for this course. You can purchase this book with the course enrollment or buy it directly on Amazon.com or Amazon internationally.

Upon reading the book, viewing the videos, completing the workbook and multiple-choice test, you will receive a certificate for 25 hours. Please note that massage therapists will receive 22.5 CE credit hours for this course.
NOTE: To successfully download these digital products you will need to have a computer operating system of at least Windows XP, Vista, or 7 Mac OS 10.5 and an updated version of Adobe Reader 11.0.09
What others are saying about this course ~
"Harmonized Aromatherapy for Seasonal Wellness is a work of art by Shanti Dechen. Shanti writes about the seasons of our lives in an easy-to-read must-have book. You don't have to be a clinical aromatherapist or a clinical herbalist to understand this book. Unlike so many aromatherapy and herbalism books out in the market today, Shanti's book marries both aromatherapy and herbalism in an easy-to-understand format, adding many important holistic modalities to each season. Shanti also discusses vital key points about safety, which is a must when learning about a new field. A book full of excellent information, I recommend this book and course for everyone interested in aromatherapy and herbalism. I highly recommend the course for anyone starting out in this field. The book is a must-have on your bookshelves."
~Melanie Woginiack-Shiffman
"Shanti's new book & course is highly informative, poetic, and inspiring. She has a gentle, loving, and wise presence. I highly recommend learning from her decades of experience in aromatherapy and holistic healing!" Miriam Carl, CCA
"A very well assembled course and a fantastic overview of so many things. From holistic and plant medicine to seasonal wellness and everything in-between. A simple, honest approach to natural healing practices with an abundance of useful information. I highly recommend the course to professionals as a refresher, or to individuals looking to explore alternative healing methods." Natalie Zalenka, CCA, C


"Thank you so much for this beautiful information. The material was wonderful and you are a great teacher. So grateful in so many ways to get this information. I've already recommenced your class to so many, many people." Catherine L. Mullaney, OTR, HTSM-CP, CCA


"I enjoyed this course from start to finish. The accompanying book and workbook are great resources that I can use going forward. The review on using medicinal plants was very helpful to refresh my memory and gain new insights. I particularly enjoyed the recommended self-care modalities according to season.
The blends that were given I will find most helpful, plus I truly enjoyed being creative and making my own blends. Thank you, Shanti!" Kathy Vanderlinden, BSN, SCP, CA
"I completed Harmonized Aromatherapy for Seasonal Wellness course and was blown away by the knowledge I obtained. At first, I was not sure what seasonal wellness meant. As an individual who is not necessarily the most intuitive, I have always relied on a book or a professional to tell me what to do for my health. This class helped change that for me by relating health and healing to the seasons and nature. Just like observing nature during each season, I can observe my health and body with each season. By learning about essential oils, hydrosols, flower essences, and healing modalities for each season, I can better integrate aromatherapy with other modalities (such as western medicine, acupuncture, massage) to create the most significant health effects for myself. I was amazed at how much more knowledge I gained by listening to the course videos a second time. It drove home the information. The nuances and little details the author, Shanti Dechen, added to the material were beyond helpful, and most humbly, demonstrated her vast knowledge and passion for the subject. I love books, and I am usually a solitary learner. I could never have gotten as much out of a book, or on my own, as I got out of this course. If you are into aromatherapy, even casually, this is an eye-opening course and experience. Wow . . . what a great course." Peggy Pitchford, CA
Save this product for later
"Study nature, love nature, stay close to nature.
It will never fail you."
​
~ Frank Lloyd Wright